It has been an unofficial tradition of  DBS to distribute materials for the homeless in winter. 

DBS spread the news for collecting relief materials such as blankets, winter coats, all-new-socks, sleeping bags etc. in mid-Novermber. Within a short span of three weeks, boxes of materials were sent to DBS and many DBS students volunteered to sort out these materials.  Some would be distributed to the homeless; some would be given to Renai Senior Citizens' Home in New Taipei City and Step 30 Internal Minitries in order to share the collected materials with those who truely needed them. 
 

The first distribution took place around 8pm on 30 Novermber. Led by Ven. Miaojia and in cooperation with Zenan Homeless Social Welfare Foundation, DBS students distributed the materials to the homeless in and around parks in Yinlan city. It is estimateed that about 20 homeless received the materials. The second distribution took place around 9pm on 3 December led by Prof. W. Cheng, Prof. Adrian Tseng, and DBS alumna (now a social worker), Chen Hsing-Chiao, and in cooperation with Social Welfare Department, New Taipei City Government, DBS students distributed the materials to the homeless staying around Pan Ch'iao Railway Station. About 32 homeless received the distributed materials. 

It is worth mentioning that DBS students not only distributed the collected materials but also preparded vegetarian meal-boxes  to be shared with the less fortunate. Overall, more than 30 DBS students participated in the Winter Distribution event.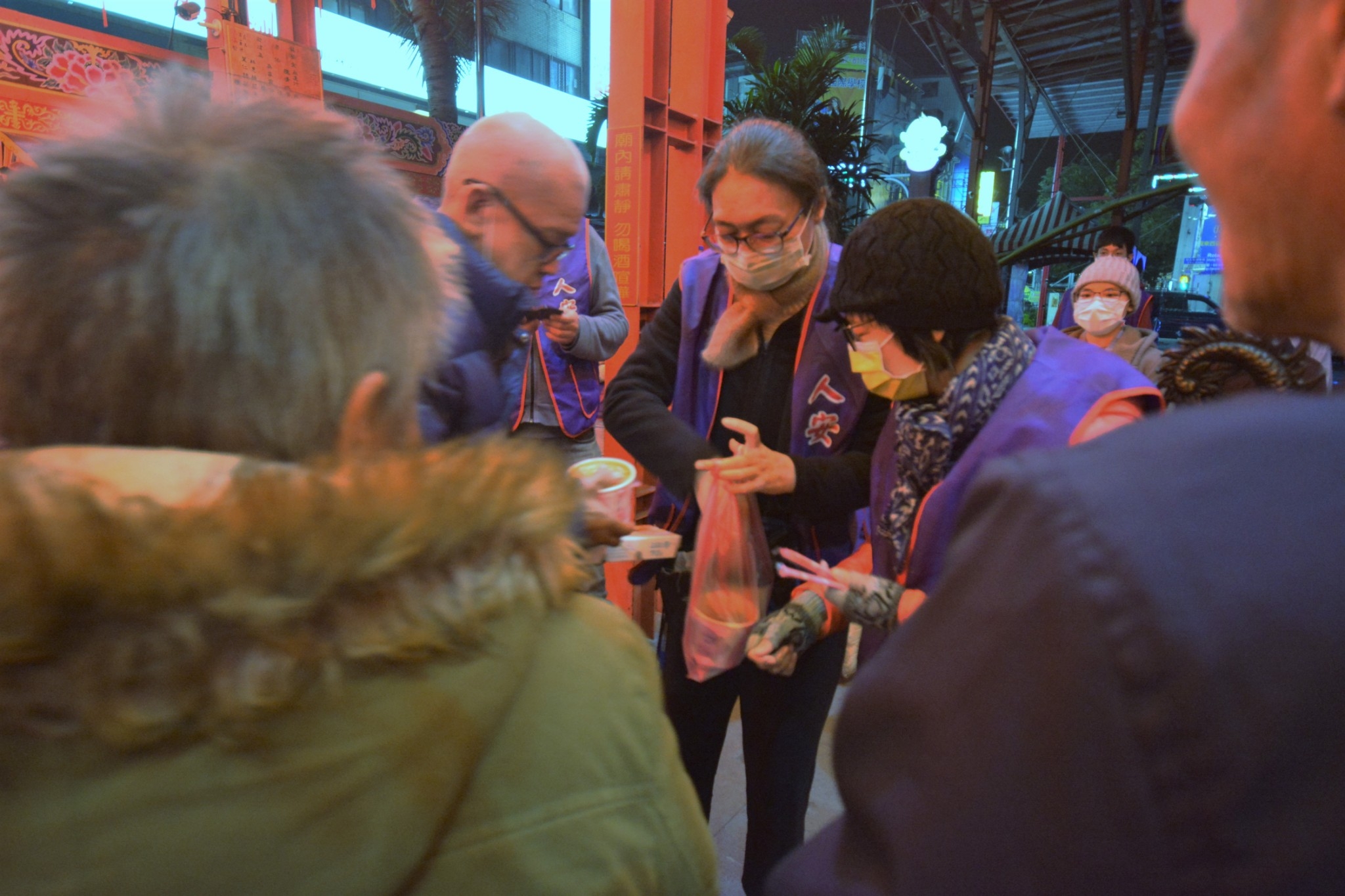 近日氣溫驟降、寒風刺骨,佛光大學佛教學系雲水書院發起「溫暖街角‧情義加被」物資募集活動,希望匯聚十方大眾的愛心,為露宿街頭的街友們送上禦寒衣物,讓他們也能溫暖過冬。
    自11月中旬發布募集資訊後,短短三週內,就有來自十方善心人士共同響應,寄來的棉被、毛毯、厚外套、全新襪子及二手衣有近百箱。為使這些物資得到妥善處理,佛教學院師生一一整理分類,一部分留贈街友,一部份寄發至新北市立仁愛之家、舊鞋救命國際基督關懷協會,將十方的愛心擴及至更多需要照顧的群體。
    本次的關懷分為兩個梯次。第一梯次於11月30日晚上8點,由生活導師妙迦法師帶領,與人安基金會合作,前往羅東及宜蘭中山公園關懷街友,約有20人受惠;第二梯次則於12月3日晚上9點,由佛教學系系主任鄭維儀老師、雲水書院主任曾稚棉老師帶隊,與佛教學系畢業生陳星喬社工、新北市街友外展中心主任張哲榮合作,於板橋火車站發放保暖物資,共計關懷了32名街友。
    活動當天除了為街友準備禦寒衣物及被褥,也備有暖暖包、口罩、藥膏等防疫物資,希望共處在後疫情時代的街友們也能平安健康。此外,這次還結合了國際佛光會所發起的「e起復蔬、全民相挺」公益計畫,由佛光山曼陀羅滴水坊、百萬人興學滴水坊提供素食便當及熱湯、奶茶,以熱食遞送善美的溫情。
    值得一提的是,此次關懷活動有逾五十位佛教學院的同學投入,參與海報設計、社工接洽、物資募集與整理、衣物分類與寄送等各項事前準備工作。另外,同學們還特別在課餘的時間,親筆書寫佛大美景明信片,郵寄給百餘名善心人士,感謝他們共同成就這次的送暖活動。而兩梯次的街友關懷有逾三十位同學共襄盛舉,親手將來自十方的愛心送至街友手中。