Transport Directions
Directions to Fo Guang University
It takes approximately 3 hours (bus transfers, etc. included) to get from Taoyuan International Airport to Fo Guang University.
From Taoyuan International Airport:
Take a bus to Taipei Main Station (

台北車站

)

. The bus company Kuo-Kuang offers this service at an affordable rate (click here to see the Taoyuan Airport Transportation web page for times and rates).
Upon arrival in Taipei, cross Shimin Blvd. in order to get to Taipei Bus Station (

台北轉運站

).

You will have to either go through the underground mall or the walkway overpass to cross the street.
From Taipei Bus Station (台北轉運站):
Within Taipei Bus Station, go to the Kamalan (

葛瑪蘭

)

ticketing counter on the 4th floor. Buy a ticket to the Jiaoxi (

礁溪

)

station. Board the bus on the 4th floor near the ticketing counter.

Once you arrive in Jiaoxi, the bus will drop you off on Jiaoxi Rd (

礁溪路五段

).

Walk to the nearest corner, and make a right onWenquan Rd.  (

溫泉路

)

. Walk down the road until you see a place where people or taxis are collecting on the right side. This is where you can wait for the school bus that will take you directly onto campus (NT$20). On the other side of the road, you should see a small green sign reading

佛光大學

(Fo Guang University).

Deposit NT$20 (exact change) upon boarding the bus, and get off at

雲水軒

(Yun Shuixuan)

.
Alternative routes:
Capital Bus

from City Hall Bus Station (MRT City Hall) to Jiaoxi Station.

Taiwan Railway

reaches Jiaoxi (from stations throughout Taiwan) Website: www.railway.gov.tw/tw/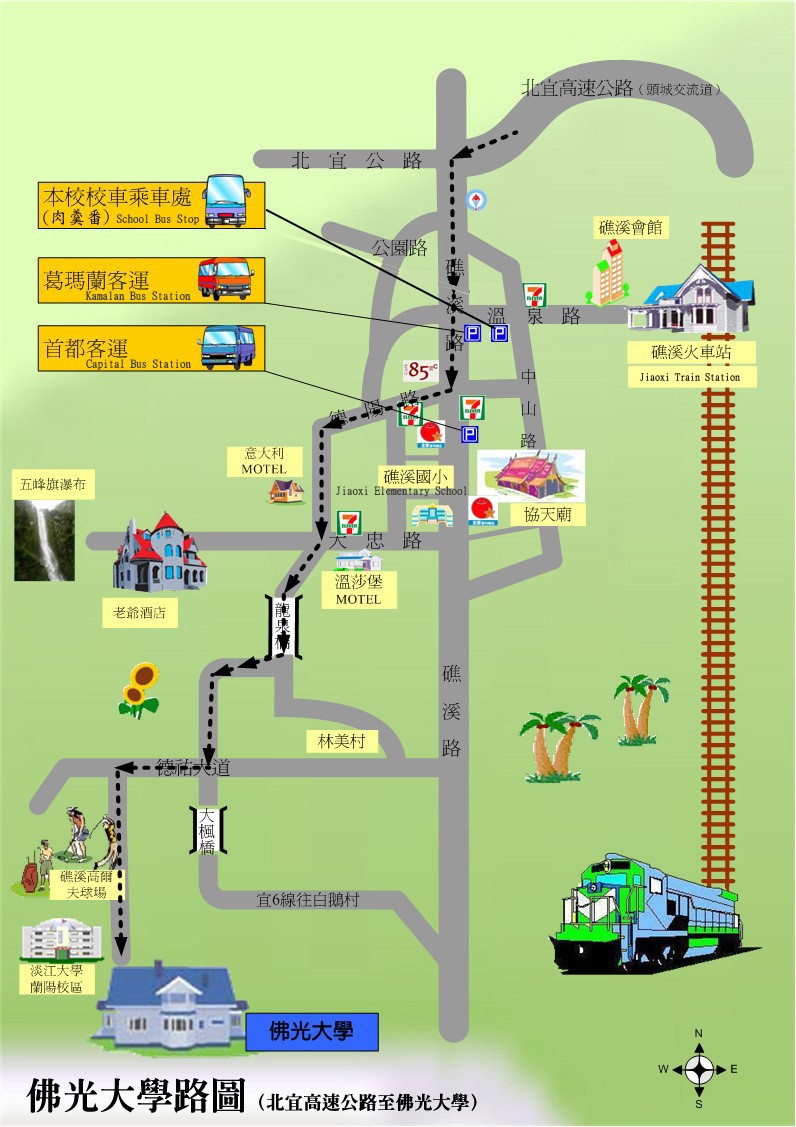 Campus Map
The College and Department of Buddhist Studies is situated in Building No. 9 (
雲水軒
) Yunshui Xuan