Application Guide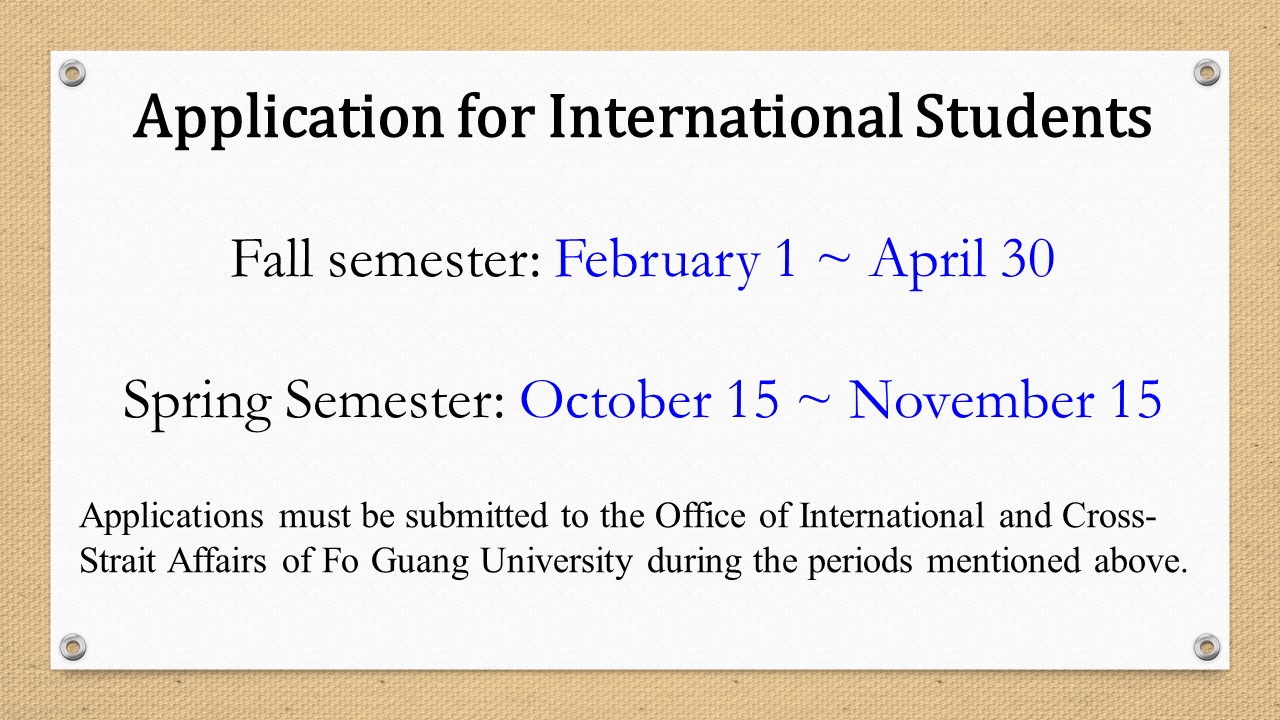 Applying to Fo Guang University
Applications for Fo Guang University are accepted during two amdmission periods. The graduate program for the College of Buddhist Studies is the only program at Fo Guang Univeristy that is conducted in English. 
Application forms please see International Student Admission for Fall Semester 2020.
(General information about FGU admission, please see here.)
The above document should supply you with all of the necessary information regarding the FGU application process. However, for your convenience, we have prepared the following step-wise, intuitive guide to your FGU application:
First, read the section titled "Educational (or academic) background" of the International Student Admissions Guide 

in order to ensure that you are eligible to apply as an international student.

 
Print and fill out (2) copies of the English application form on page 17-23 (of the "Attachments" section)

.
*         Be sure to attach a recent photograph (about 1" x 2") to each of your applications. If accepted, this picture will be used for your Student ID card.
*         It is recommended that you sign up for FGU dormitories, rather than private lodging. All of the Buddhist Studies majors of each gender live in specialized dorms designed to provide  a "semi-monastic" living setting. The Buddhist Studies dorm buildings include meditation halls, kitchens, and dining halls and are very close to the Buddhist Studies department's offices and classrooms.
*         Try to be specific about your plans of study in your 300 word statement.
Go to the nearest Taiwanese embassy, consulate, or Taipei Economic and Cultural Office to get your highest-level diploma, transcripts, bank statement, and health certificate (

download here

) health certificate authenticated. Please fill in the required Application for Authentication (

download here

) to accompany your documents.

 
*         Go to your country's TECO website (link to your country from 
here
) and look for its document authentication section for document authentication instructions, as well as a list of required documents.
*         The authenticated diploma, transcripts, and bank statement will be needed for your initial school application. The health certificate is only needed for your Resident (Student) Visa application. While you won't be able to apply for your visa until you receive your FGU acceptance letter, it may be more convenient to get your health certificate filled out and authenticated at the same time as your other documents in order to save a trip to the consulate.
*         In order for your bank statement to be authenticated by the appropriate Taiwanese officials, you must first have it notarized. Most banks offer notarization services; so simply ask for your statement to be notarized when you retrieve it from the bank.
*         The second half of the Document Authentication information page pertains exclusively to transcript and diploma authentication. If your university has delegated student records management to an outside agency (e.g. the National Student Clearinghouse), you will need to pay that agency personally to verify your records and then supply the embassy/consulate/office with the information required to access the verification online (see Note 1). You may want to call the Taiwanese embassy/consulate/office in advance to see if your university requires you to do so.
*         If you plan to apply for the MOFA scholarship, be sure to get 2 copies of your authenticated diploma and transcripts. You will need a second copy of these documents for your scholarship application.
Put each item listed below in one large envelope and send to the following address:
[Intended Department] Admissions
Fo Guang University
No.160, Linwei Rd., Jiaosi ,
Yilan County 26247, Taiwan(R.O.C.)
Necessary items:                          (see [PDF p. 15] of the application PDF for a checklist)
Application fee 

: None.

Two copies of completed application form, each attached with a 2-inch photos taken within the latest three months.

Authenticated diploma of highest level of education.

Authenticated grade transcript.

Two letters of recommendation in sealed envelopes (note: the application document states that one must be from a Chinese language teacher; this is not actually the case for those applying to Buddhist Studies MA taught in English).

Fo Guang Shan Monastic Retreat  Alumni are strongly encouraged to contact the FGS management for a letter of recommendation (

fgstsunglinebc@gmail.com

).

 A photocopy of passport or other equivalent supporting documents.

A statement of about 300 words in Chinese or English stating your reasons for and your plans of studying in Taiwan (the statement included in the application form).

One financial statement issued by a bank and authenticated by the ROC (Taiwan) embassy, consulate office, or Taipei Economic & Culture Office of the country in which the student resides (students with support from an outside funding agency must provide relevant documents).
Getting a Resident (Student) Visa
Once you've received an acceptance letter from Fo Guang University, you can go to the consulate / embassy / office to apply for your resident (student) visa. The visa takes 1 working day to prepare, unless you pay the same-day expedited processing fee (US$33; cannot be waived). You will need the following documents in order to apply:
Your application fee (US$66 for single entry, $132 for multiple) or MOFA scholarship acceptance letter to waive this fee

A passport valid for at least six (6) months

One duly completed Resident Visa Application Form (

download here

)
*         On this form, be sure to check "Resident Visa" for your visa type, FGU's address (given above) for your address in Taiwan, and "Study" for your purpose of travel
2 head-and-shoulder photos taken within the last 6 months (2"x2")

Your FGU acceptance letter

Authenticated Health Form (

download here

)
Once you've arrived in Taiwan, you will be required to apply for an Alien Resident Certificate within 15 days. The administrators at FGU will arrange for all of those who need to get their ARC to do so as a group. It is important that you don't arrive in Taiwan with your resident visa more than 15 days before registration at FGU, as you will need your student ID card to apply for your ARC.
For more details visit the Taiwan Embassy's Visa Services Web Page click here and scroll down to "Resident Visa"
Financial Information
While Fo Guang University offers scholarships which cover most of the cost of attendants to all of its students, you must pay for your courses, room, and board at the beginning of the semester before being reimbursed within roughly the next month. The fee for one semester of courses, room, and board is NT$55,300 (roughly US$1753.45). Also, there may be minor fees for bedding and photocopies of important readings. The first NT$50,000 portion of the scholarship is given out at the end of September or early October. Another NT$5,000 of the initial fee will be reimbursed in full at the end of the semester, with a fee subtracted for any meals missed.
Important Deadlines
MOFA Scholarship Application – February 1st through March 31st
Fo Guang University Application – February 1 through April 30th
Fo Guang University Orientation – around September 10th
 
*Try to enter Taiwan as close to this date as possible. You have 15 days from your entry into Taiwan to apply for your Alien Resident Certificate, which will require the Student ID card given to you at the orientation. 
* International Students applying Ph.D. Program need provide proof of good academic ablitiy of listening, speaking, reading and writing in Chinese.  
*  Guide compiled by John Plass.  Thanks John!  * 

(updated 27 March 2019)